Your content goes here. Edit or remove this text inline or in the module Content settings. You can also style every aspect of this content in the module Design settings and even apply custom CSS to this text in the module Advanced settings.
Here you can see the form with blackened client data. If you receive the same document, be careful! It´s fraud!
Did you hear about Data box (datová schránka)?
10.03.2021
Did you hear about the Data box and how it can simplify communication with the Czech authorities? If not, then we have a special edition for you! We have prepared a series of articles where you will learn everything you need to know about the Data box! 
 What is a data box?
The data box is a better e-mail box, which is established by the Ministry of the Interior of the Czech Republic. It is used for communication with the Czech authorities, but also communication between private entities.
What are the benefits of a data box?
Compared to a classic e-mail box, it has one major advantage, namely the demonstrable delivery of a letter sent by a data box. Therefore, if you send any document (let's call it a letter) via the data box, it is delivered to the Czech authorities immediately. In addition, sending the letter through the data box to the Czech authorities is free of charge. On the other hand, if you want to send a letter via Czech Post, sending the letter will cost you some money and delivery will not be immediate.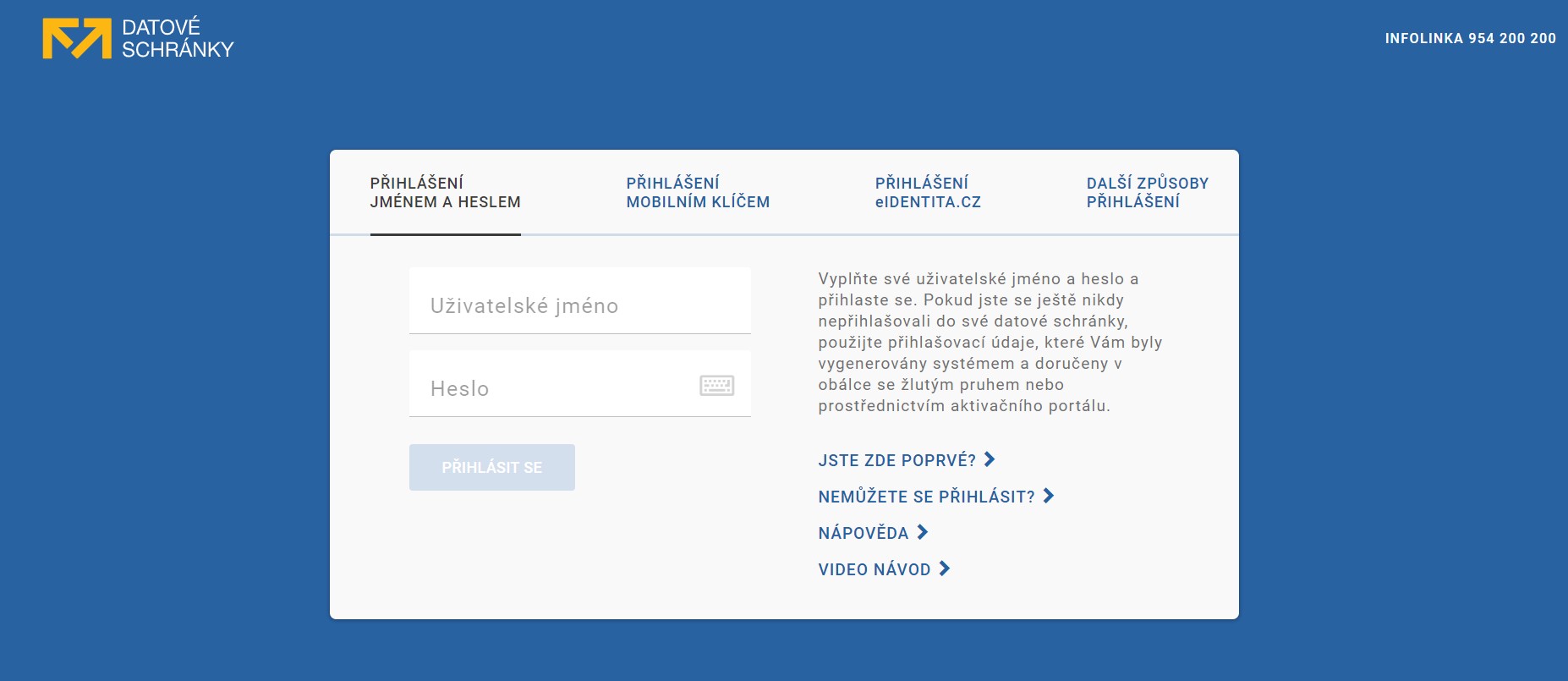 Here you can see how the login to the Data box looks like
If you have set up a data box, the Czech authorities are obliged to deliver all documents to your data box. So sending important letters by mail or other means ends. If you receive a letter into your data box, you know exactly when the Czech authority sent you the letter and when it was delivered to you. This is especially useful if you have a deadline set by the Czech authority for a certain action. If you reply to the Czech authority via your data box, you know again exactly when your letter was delivered to the Czech authority and you have irreversible proof of delivery in your hand. Plus, it's all done electronically, so you don't have any paperwork.
Summary:
The data box enables the sending of letters to the Czech authorities in electronic form. Thanks to the data box, communication with the Czech authorities is more efficient, faster, more reliable, and free of charge. This will relieve you of the worry of letters from the authorities because you will have everything in electronic form and everything together in one place.
If you want to know more information, you can join our workshop about Data box. To sign click here.
Advokátní kancelář Křenková, s.r.o.
Pobřežní 78, 186 00
Prague, Czech Republic
ID No.: 08798451
Registered in a business register held at the City Court in Prague, Section C, Insert 325560

Mgr. Hana Křenková is a member of the Czech Bar Association under the evidence number 17227.