Your content goes here. Edit or remove this text inline or in the module Content settings. You can also style every aspect of this content in the module Design settings and even apply custom CSS to this text in the module Advanced settings.
Here you can see the form with blackened client data. If you receive the same document, be careful! It´s fraud!
Are you registering a Czech trade licence? Beware of this scam!
03.03.2021
First a little context. As you probably know, we offer legal services in the area of ​​establishing a trade license. The agreed remuneration for this process also includes, among other things, all fees associated with the registration and issue of a trade license. This means that the client pays the agreed amount and no longer has to worry about anything, do not pay anything anywhere and stress with nothing. And now back to our story.
We provided exactly such a service to one of our clients. We successfully registered him in the Trade register and sent him a trade license. A few days later, an indignant message came from him that he had received a letter from "a register" that he was to pay them a registration fee of CZK 1,677 by returning it to a bank account. We found the whole thing weird, so we asked the client to send us this invitation and it was clear to us right after opening!
The letter was from the Trade Register (Rejstřík obchodu a živnosti), a register that brings together entrepreneurs registered in the Trade Register and publishes their information concerning their business. However, although the letter seems at first sight that the entrepreneur has no choice and has to pay the publication fee, the entry in this register is VOLUNTARY!
No legal regulations and no administrative body requires the entry in this register as a necessary condition for carrying out your trade. We can say that the only purpose of this registry is your advertisement, however, let's be honest, this advertisement is not very effective. The trade register (Rejstřík obchodu a živnosti)will not ensure your promotion. It does not guarantee that your data will be displayed first in the internet search engine or any other benefits that we could expect from advertising.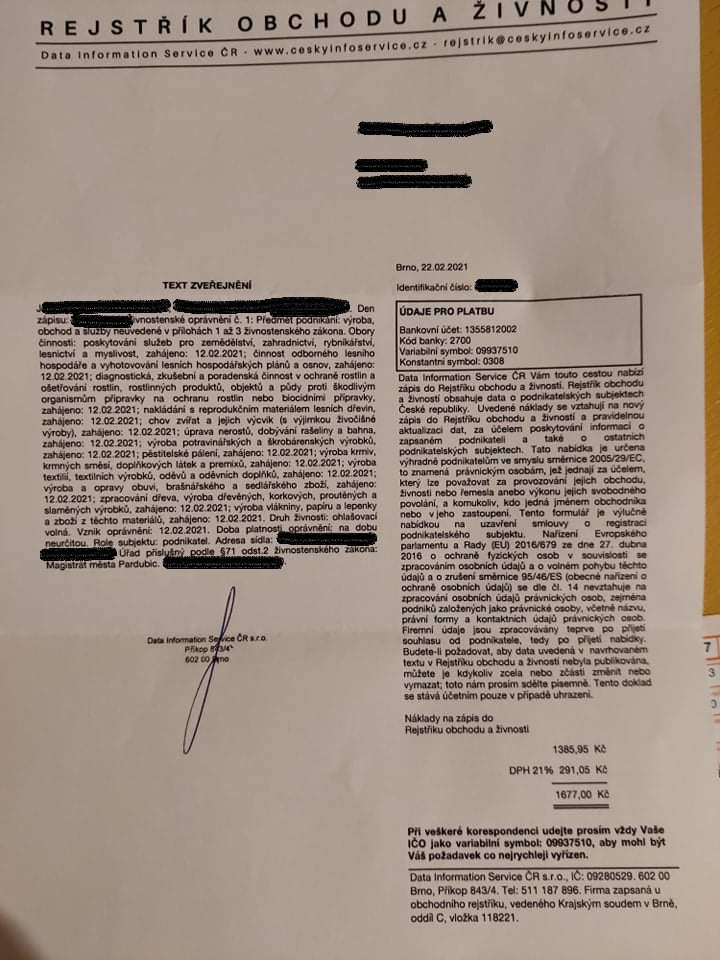 Here you can see the form with blackened client data. If you receive this document, be careful! You are not obliged to pay!
Moreover, in view of the confusing letter, they are likely to send it to every new entrepreneur registered in a trade register, the company's actions give the impression that their sole purpose is for new entrants to send them money and make them feel that it is their duty, not their possibility. They also often use the entrepreneur's innocence, and especially his insufficient knowledge of the Czech language, as the letter is written in such a way that it really gives the impression of mandatory payment of the said amount at first sight. To give you an idea, we send its form, of course with blackened client data due to the protection of personal data.
From our point of view, we strongly recommend not to react to such a letter at all and not send any funds. However, if you decide to go through the process of registering a trade license with our law firm, we guarantee that all fees for establishing a trade license are already on the agreed price, which you will pay to our office.
 Mgr. Denisa Zobelt, legal trainee
Mgr. Hana Křenková, attorney at law
Advokátní kancelář Křenková, s.r.o.
Pobřežní 78, 186 00
Prague, Czech Republic
ID No.: 08798451
Registered in a business register held at the City Court in Prague, Section C, Insert 325560

Mgr. Hana Křenková is a member of the Czech Bar Association under the evidence number 17227.